For players at "mid-major" programs, making it to the NCAA Tournament is something that many dream of, but never get a chance to fulfill. Even rarer is for these programs to make it to the Tournament in back-to-back seasons, but that is exactly what UNC-Asheville did this season, led by senior guard J.P. Primm. I interviewed Primm last year after their first tournament appearance and his brief consideration of entering the NBA Draft. Wisely, he made the decision to come back to school and he and his teammates were awarded a first round game with #1 seed Syracuse. UNC-Asheville kept the game tight the whole way, and the Orange were lucky to escape with a 7-point victory. Primm himself had a terrific game against the heralded Syracuse zone, scoring 18 points, including 4-8 from 3-point range, with 3 assists, while also spearheading a defense which held the Syracuse guards to just 10-24 shooting from the field. I got to catch up again with Primm again, and as always, he had a lot of great things to say. Enjoy a brief glimpse into how J.P. sees himself as a player, his senior year, the NCAA Tournament, and much more: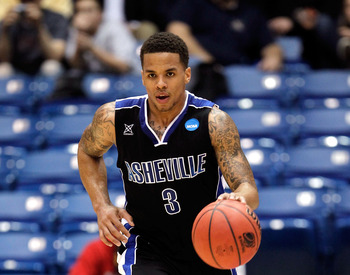 J.P. on how his game developed his senior year:
"My game developed in a lot of ways. My jumper got better. I became a better point guard, involving my teammates and learning to look at the game from a different perspective. I spent a lot more time watching film and breaking down the game. I learned that I can affect games in more ways than just scoring – also defensively and distributing the ball."
J.P. on making a second straight trip to the NCAA Tournament:
"The first year (2011) was great. It was a new experience and I think, as a team, we were just excited to be there. This year we weren't satisfied with just being there. We had a little bit of a chip on our shoulders; we didn't think we should have been a 16 seed. But the first round game against Syracuse (Syracuse won 72-65) validated our whole year and showed the character of the team. Coach (Eddie Biedenbach) drew up a great game plan and it played to our team's strengths. "
J.P. on his strengths as a player:
"Scoring has always been my greatest strength, but now I showed I can get everyone involved and be a leader on the court. Overall, my defense has improved as well as my shooting, especially my free throw shooting. I've learned how to make better decision on the pick-and-roll, being able to stretch the defense. "
J.P. on parts of his game he wants to improve:
"My footwork. It's good now, but it still needs to be improved to be able to play at the next level. It's the biggest thing any player can do is improve their footwork. It will benefit you on both ends of the court."
J.P. on training for the next level:
"Once I graduate on May 5, I will then head to Atlanta, and I will be doing my workouts and preparation there. Also, I will be heading to Honduras to play with Athletes in Action, which will allow me to come back to the US for workouts with NBA teams."
J.P. on how he envisions his role at the professional level:
"I am going to go out there and give the team what they need. It's not going to wow you, but it is going to get the job done. I can see myself as a Derek Fisher-type player – running the team's system, hit the open shot when needed, keep the team playing as a unit, and making the right plays."
J.P.'s message for NBA teams and basketball fans:
"Wherever I end up, I am going to work as hard as I can. Giving my all every single day, doing whatever the team needs from me. I know if I don't make a team right away, it's not going to because I didn't go out there and give it everything I have. "
I want to thank J.P. for his time again this year and I wish him the best of luck as he looks to fulfill his dream of getting to the NBA. Thank you also to his agent, Austin Walton of Walton Sports Management Group. Once you see J.P. play and you get a chance to talk to him, there is no way you can't root for him to make it.
Leave your comments below, follow me on Twitter – @NBADraftBlog, or feel free to email me at ed@nbadraftblog.com