Today, the NBA Draft Blog Scouting Report heads to the Big 12 to look at one of the most scrutinized players over the last 4 years, Kansas point guard Tyshawn Taylor. Taylor has had a roller coaster of a college career, but with improved scoring ability and a more mature attitude, he is playing at a peak right now. Teams have noticed the improvement, so how high can he go this June? Let's take a look at Tyshawn Taylor: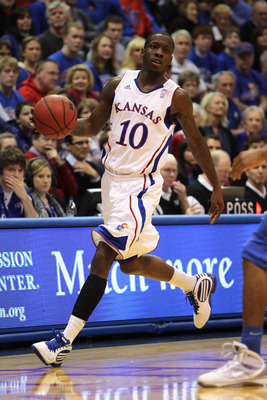 Tyshawn Taylor, Kansas – Senior
Guard - 6'3, 185
17.1 ppg, 5.1 apg, 48.5% FG, 66.2% FT, 45.4% 3FG
Offense
Perimeter Shooting- Taylor's perimeter jumper may be one of his biggest improvements over the last four seasons. Not only has he tightened up his form – feet and shoulders square, uses his legs well, a quick, high release and good arc – but he has become much more confident in taking his jumper. He knows when he is going to get a look, and he has his body and hands ready to take the shot quickly. He uses ball fakes well to create space, but he needs to work on getting the same form when taking his jumper off the dribble. Also, Taylor needs to become much more consistent from mid-range. He doesn't need to settle for the long jumper, take a dribble or two in for the better look. He has improved coming off of screens and being prepared to shoot, and should improve even more as he plays off the ball a bit more.
Ballhandling/Hands/Penetration- Taylor has excellent ballhandling skills. He is adept with either hand, varies his dribble to keep the defense off-balance, and keeps the ball close to his body. He does need to watch the occasional concentration lapse, and try not to force his dribble into the defense. He has good hands, and can handle most passes. Taylor has a very good first step and takes nice, long strides when getting into the lane. He has the ability to hit the floater or take the ball to the rim, but he needs to be more aware of help defenders stepping into his path. He would do a much better job if he became more comfortable with the mid-range jumper to avoid forcing the ball into traffic. When he gets to the rim, he has excellent body control, can take a hit and finish, or he finds a way to avoid the contact and still get a good shot. He has done a decent job getting to the rim off the pick and roll, but he needs to be more decisive in those situations.
Rebounding/Passing- Taylor has a tendency to spend most of his time on the perimeter, so he isn't a very active offensive rebounder. When he secures a rebound, he does a good job resetting the offense and not forcing anything. Taylor has very good court vision, but again, he has those lapses where he locks in on one thing and misses what is going on around him. His passes are crisp, and he does a good job putting the ball where his teammates can do something with it. Over the last 2 seasons, he has become much better with his post-entry passes, and his ability to hit the perimeter jumper gives him more space to work with. One area I would like to see him improve is on the pick and roll, especially when the defense commits. He has good composure, but he does have a tendency to rush some passes in these situations.
Free Throw Shooting – Taylor is an average free-throw shooter, but has shown that he can hit them in clutch situations. He plays a lot of minutes, and you can see that he tends to rush his free throws when he is tiring. His form is solid, it is a matter of just taking his time when he gets to the line.

Defense
Perimeter Defense- Taylor has improved as a perimeter defender, especially in pick and roll situations, but he does have some work to do on this end. He stays low on the ball, has active feet and hands, but he needs to do a better job with lateral movement instead of chasing the ball. Off the ball, he needs to work on his positioning and closing on shooters. He does a good job working through screens, and he has also improved as a help defender. I think with a little work, he could guard either guard position at the next level.
Rebounding- Taylor doesn't get involved in much rebounding on the defensive end, but he does have good size and speed, and he could make a difference when he chooses to go after the ball.

Transition
Taylor has good speed and a solid handle, but he needs to improve his decision making when pushing the ball in transition. He has the ability to take the ball to the basket or stop and hit the perimeter jumper, though he needs to improve his jumper off the dribble. If he can do a better job recognizing when it is best to slow the ball down and get set, this area could become a strength for him.

Summary & Intangibles
Athleticism - High
BB IQ – High
Taylor has had many ups and downs during his 4 years at Kansas, but it looks like he is set to finish his college career on a high note. His leadership ability has been outstanding this season, and though there are still some mental lapses, they have become fewer and far between compared to previous seasons. In my opinion, this is the Tyshawn Taylor Kansas fans were expecting 4 years ago. While there is an outside chance, based on team needs that Taylor could sneak into the late first round this June, I think we will most likely see him picked in the early to mid-second round (35-45) range, but whatever team gets him will have a solid backup point guard from Day 1.
Remember, leave any comments below, follow me on Twitter – @NBADraftBlog, or feel free to email me at the link up top.