As we head towards the 2012 NBA Draft, it is time to give some looks at players who may not be locks to get drafted, or are being severely overlooked, but they have the skills and intangibles which could translate to a NBA career. The Case For….takes a look at these players and tries to give a brief outline of what skills they have, what they are missing, and what steps would eventually lead them to the to the NBA. This edition looks at one of college basketball's top scorers the last couple of years – IUPUI's Alex Young. As I said, Young is a scorer, but when you watch him on the court, you get the feeling that there may be a lot more that he is capable of. I had the chance to see Young recently at the Draft Combine in New Jersey, and he definitely showed a greater defensive toughness to go along with his ability to get to the basket easily. While not included at the NBA Combine in Chicago, Young should very much be on teams' radars. Is it possible he will be snubbed come Draft Day? Let's look at The Case for Alex Young: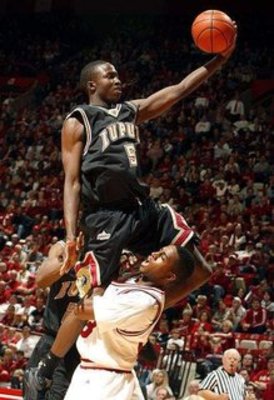 Alex Young, IUPUI, Senior, 6'6, 212
20.4 ppg, 5.9 rpg, 2.2 apg, 1.6 spg, 42.4 FG%, 81.7 FT%, 33.9 3FG%
The Good – Young is a fantastic scorer, able to get points in a variety of ways. He is very good when operating in space, having a very good first step and long strides that get him to the basket area quickly. He has the ability to shoot above tall defenders and has very good touch around the basket. He has very good form on his jumper, and has range beyond the college 3-point line. He is a good ballhandler and uses a variety of advanced dribbles, including a great crossover, to get into the lane. His movements are very fluid and he has excellent body control. Young does a great job coming of screens tight when he has the ball, and turns the corner quickly. He can handle contact and still get a good shot off, and is an above average free throw shooter. Defensively, he has improved as an on-ball perimeter defender, getting low and keeping his arms extended. His lateral movement has improved every year as well. Off-the-ball, he plays the passing lanes well and is quick to pick off a bad pass. He uses his length to fight for rebounds with larger players and has the ability to start the break after he grabs a rebound. In transition, he can push the ball, or space out on the wings, and can score from either.
The Bad – While Young is a very good scorer, there is many areas where he can improve. A lefty, he tends to force his plays at the basket to the left or the middle, even when the right side is exposed and an easier shot. He has shown that he can finish with his right hand, but needs to be more consistent and confident with it. Shot selection is another area he can improve, especially using his dribble and shot-fakes to get a better look at mid-range, instead of a long-range shot with a man in his face. I would like to see him look to distribute more when he gets into the lane. He draws help defenders easily and should look to hit open teammates down low or on the perimeter. I noted that he handles contact well in the lane, but Young tries to avoid it by angling his body to find a shot. With his style of play, he should get to the line a lot more often. On the defensive end, while he positions himself well on the ball, and stays low, he needs to watch his balance. Often he can be seen leaning forward in his stance, leaving him susceptible to quick moves. When I saw him at the New Jersey Draft Combine, he looked to be doing a better job, but he needs to make sure to do it consistently. Young also needs to work on getting over screens against shooters and doing a better job closing on the perimeter shot.
The Verdict – Watching Young out on the court, you can tell he is just a natural at this game. His movements are easy, scoring seems effortless at times, and from what I saw of him recently, he looks to still be improving. While all of the issues I mentioned above should be able to be fixed somewhat easily, the big key for Young, going forward, is patience. Going back to review his film, the biggest thing that stood out was that every time he touched the ball, his first instinct seemed to be to try and make a play. While there are many times it's appropriate and it works, a lot of times you need to sit back and see what the defense will give you. The majority of his turnovers I saw were from him forcing a play or a shot that wasn't there. If he can improve this, he has the game that can break into a rotation quickly, and a style that would mesh with numerous teams. His draft range should be from the early to mid 2nd round, somewhere in the 38-45 range. Anything after that is an absolute steal.
Leave your comments below, email me any comments or suggestions at ed@nbadraftblog.com, and remember to follow me on Twitter – @NBADraftBlog.